Winter is certainly kicking in which makes me day dream about our annual Kangaroo Island trip scheduled for January each year and now only 7 months away.  The dry heat, the turquoise blue waters  and the stunning vistas……… Looks like many of our club members have been doing the same as me as we have only 1 double occupancy room left (couple).
Overlooking Backstairs Passage from the very top of Constitution Hill on the North Western coast of Kangaroo Island,  Kangaroo Island is the hidden gem in the crown of Australian dive and holiday destinations.  With 2 of its beaches rated in the top 10 most beautiful beaches in the world, spectacular visibility (20mts +), abundant wildlife in and out of the water, a unique array of local produce with award winning wines, cheeses and honey, this is a destination of pure indulgence.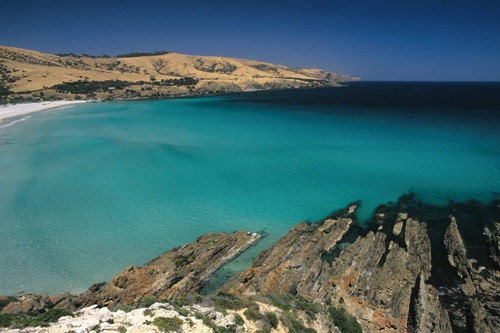 The cold weather which has now kicked in makes me ponder about what the lucky people of the tropical South Pacific islands are up to.  Mid 2015 has 2 stunning dive destinations on offer, 8 to 17 June, we're off to stunning Kavieng, just 2 degrees south of the equator, on the northern tip of New Ireland province in PNG.  During WWII the Imperial Japanese forces occupied the region and established one of the Pacific's most advanced military bases.  Today, many reminders of those days are still visible on land and underwater.  With visibility between 20 and 40mts and water temperatures of 29 degrees year round, Kavieng is a magnet for divers from the world over.  One of the attractions to this location are the current swept passages that attract a variety of big pelagic fish, one of these sites is Albatross Passage, a narrow channel between New Ireland and Baudissin.  On the turn of the tide, predators such as sharks, tuna, barracuda & Spanish mackerel feast on fish being literally served up to them.  You will be a total spectator on this dive, perched atop the reef, and held in place by a reef hook, you will be in for an amazing treat.
The resort is a short boat ride from Kavieng.  Set along a white sand beach and surrounded by tall palm trees, tropical vegetation and coral reef, this private island retreat caters for a maximum of 14 guests.  Accommodation consists of 14 bungalows with private facilities, all meals are included in your stay, the restaurant and bar are truly set in the most comfortable and laid back manner that you can imagine with a natural sand floor.  For the non diver, snorkelling on the house reef will provide hours upon hours of fun as well as opportunities to partake in surfing, fishing as well as  village and historic island tours.
On our doorstep, the remote areas of PNG are amazing, the indigenous history and customs are fascinating and colourful.
This 10 days, 9 nights (Ex Brisbane) dive trip is amazing value at only $3760 per person (diver) and $3025 (non diver) inclusive of breakfast, lunch, dinner, 12 boat dives, guides, weights, tanks, air fares, transfers and Australian departure tax.
First in, best dressed for first choice of accommodation!
https://www.scubaculture.com.au/wp-content/uploads/2013/10/S14164-PNG-June-2015.pdf
For something amazingly different, perhaps Barefoot Island Resort is what you're looking for!
Located in the Yasawa group of islands in Fiji and accessed with a Catamaran transfer from Nadi, Barefoot Island Resort boasts a Sunrise and a Sunset beach fronted by palm fringed white sand beaches with stunning coral reef only metres away and a channel where Mantas come to play every day.
With 12 boat dives and 5 Manta snorkels, all meals, accommodation, transfers, 7 nights accommodation and from a base price of $3546 per diver (Quad share Bure) and $2557 non diver, this trip presents great value for money for a group of friends or a family.
Upgrades are available for twin share and deluxe Bures for those who want it.
Again, we have selected the best possible time slot to maximise the experience, escaping a cold Melbourne winter from 25 June to 4 July 2015.
Tempted? Have a look at the link to the flyer below.
https://www.scubaculture.com.au/wp-content/uploads/2013/10/S14078-Fiji-June-2015.pdf